CareVit COMPLEX
Nutritious complement for hair and nails.
The principle elements that favour hair and skin regeneration, as well as strengthening nails, come from the B group of vitamins, sulphurous amino-acids, compound proteins and antioxidants rich in catechins.
CareVit Complex provides:
Group B vitamins.
Sulphurous amino-acids.
Protein compounds.
Catechins.
Saw Palmetto.
Collagen.
Hyaluronic acid.
INSTRUCTIONS FOR USE
Recommended dosage: 1 capsule per day with breakfast.
APPLICATION
To be taken orally.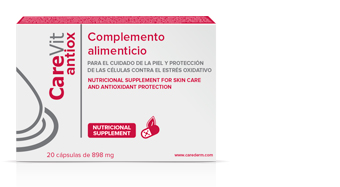 Nutritious complement indicated for skin protection and nutrition and the prevention of free radicals.