CareDerm Retinol Lotion
The union of its exclusive formula helps recuperate aged skin, with a tendency to wrinkle, damaged by harmful atmospheric agents and facial flaccidity. Our formula with retinol, collagen, elastin, antioxidants and ferulic acid will increase elasticity and help maintain the natural moisturizing factor of the skin.
INSTRUCTIONS FOR USE
After a good face wash, apply by circular massages from the centre out and upwards.
APPLICATION
External use only. Use at night.
A unique product that will provide exfoliating, descaling and promoting properties of the formation of collagen and elastin.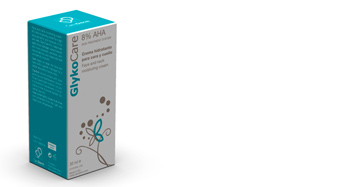 GlykoCare 15% AHA Gel forte eliminates the accumulated dead cells and leaves a healthier looking skin smoother texture and suppleness.