SaliciDerm Salicylic 2% Oil
SaliciDerm oil is a modern formula for the coadjutant treatment of dermatological process with flaking and itchiness.
Salicylic acid acts as a smooth antiseptic and exfoliate, the percentage being adequate for such effects.
An exclusive combination of natural oils and α-Bisabolol, makes for better lubrication, greater emollient potential and softens flaky scalps, preventing irritation and scratching.
INSTRUCTIONS FOR USE
Unless otherwise indicated apply to scalp at night and wash in the morning using frequent use shampoo (CareDerm Neutral Shampoo) to completely remove flakes.
Following this apply once or twice a week. Apply directly to the skin with smooth massages until the oil has been completely absorbed. Apply once or twice a day.
APPLICATION
External use only. Shake before use. Never apply to skin folds.
SaliciDerm Bath salts have been created using mineral components from the Dead Sea, well-known for their therapeutic effects.
SaliciDerm Lotion (1.5%) with Dead Sea Salts has been conceived for dermatological process with dry skin and itching.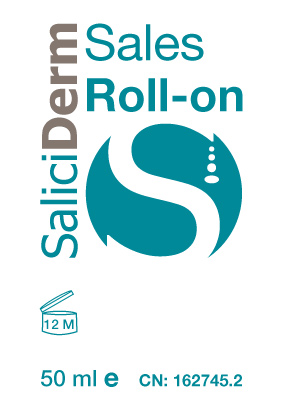 SaliciDerm Roll-On 50 ml. has a novel application system as it can be applied to the whole body and where required.