CareVit ANTIOX
Nutritious complement indicated for skin protection and nutrition and the prevention of free radicals. Especially recommended for white skins and sensitive (phototype I, II and III).
Protection of the skin and the prevention of free radicals can be neutralized by antioxidant defenses, which may be substances belonging to the organisms (endogenous), or substances that are supplied from the outside through food (exogenous).
CareVit Antiox provides:
Resveratrol.
Dismutase Superoxide.
Green Tea.
Essential fatty acids Omega 3.
Flavonoides.
Vitamins.
Enzymatic Activators.
Carotenoides.
Collagen.
Hyaluronic acid.
INSTRUCTIONS FOR USE
Recommended dosage: 1 capsule per day with breakfast.
APPLICATION
To be taken orally.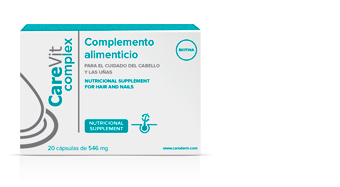 Nutritional supplement for hair and nails. The principle elements that favour hair and skin regeneration.