Beckmak Surface disinfection
This preparation is a disinfectant based on quaternary ammonium compounds for surfaces with the addition of dye, but without the addition of alcohol or perfume. The preparation has a very wide range of uses and is suitable for rapid disinfection of all surfaces, as the exposure time is only one minute.
(Virucide / Bactericide).
APPLICATION
The preparation is sprayed undiluted onto the surface to be disinfected
and wiped off after 60 seconds
.
INFORMATION ABOUT THE ACTIVE SUBSTANCE
100 g BECKMAK™ Surface disinfection contain:
0.25 g didecyldimethylammonium chloride (CAS No. 7173-51-5)
0.25 g alkyl (C12-16) dimethylbenzylammonium chloride (CAS No. 68424-85-1)
0.25 g alkyl (C12-C14) dimethyl (ethylbenzyl) ammonium chloride (CAS No. 85409-23-0)
Use biocides carefully. Always read the label and product information before use.
We are manufacturers of cleaning agents, disinfectants, hand washing soaps and distribute hygiene products for commercial cleaning. We sell exclusively to commercial customers. The delivery of our products to private customers is excluded.
Due to the high demand your order may be delayed. We are working hard and in collaboration with logistics companies to deliver your orders to you as soon as possible.
Ideal for the assembly of our BECKMAK™ Spray dispenser.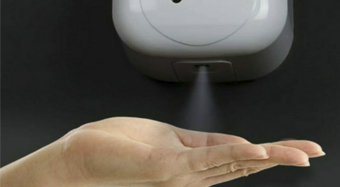 The preparation has a very wide range of uses and is suitable for quick disinfection of hands.